El Greco, a Cretan Painter?
El Greco, a Cretan Painter?
Angeliki Lymberopoulou: El Greco, a Cretan painter?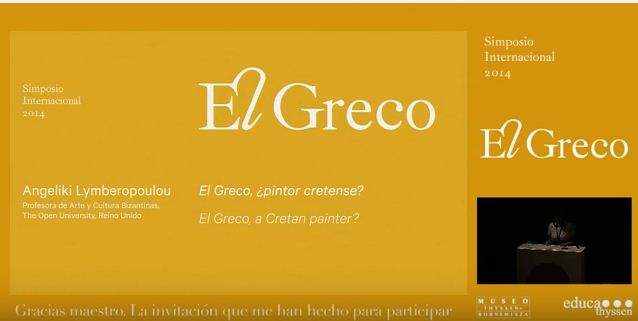 Recorded on 21 May 2014, Museo Thyssen-Bornemisza, Madrid, as part of the International Symposium on El Greco, to mark 400 years since his death (1541, Candia – 1614, Toledo).
Domenikos Theotokopoulos (widely known as El Greco), was born in Candia (present-day Herakleion), the capital of Venetian Crete. But was he a Cretan painter? Geographically speaking, the obvious answer is 'yes'. The notion may also have been part of the painter's identity, because he repeatedly declared his origin as 'Cretan' (Κρής) on his signed works. But what did being 'Cretan' entail at this particular time? This question cannot be answered on the basis of topography alone. It needs to be regarded from different perspectives, taking into account the nature of sixteenth-century Venetian Crete as a bi-cultural and bi-religious society – a unique environment that nurtured the formative stage of El Greco's exceptional artistic development.